Biogaz Europe 2016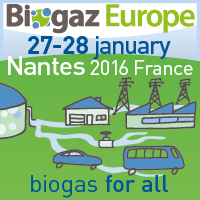 Views: 537
Added: 11-10-2015
Updated: 11-10-2015
Country:
France
City:
Nantes
Languages spoken: English
Company Name:
Bioenergy Events and Services
Address:
Parc des Expositions - Route de Saint-Joseph de Porterie - 44300 Nantes - France
Contact person:
Nadia Halaimia
Phone:
+33 384 86 89 30
Fax:
+33 384 43 24 03
Website:
http://en.biogaz-europe.com/index.asp?SK=skin-01-uk
Biogaz Europe now in its 6th edition, is the leading and reference event for the French biogas sector. The next edition will happen from 27th to 28th January 2016 in Nantes. More than 250 international exhibitors and represented companies and 4000 professional visitors are expected : energy professionals, farmers, agricultural parties, project developers, policy makers, local authorities etc.
Member area
Welcome, guest !
OFFER POSTING GUIDELINES
Featured Events